Innocent Black man survives 120 shots from sheriffs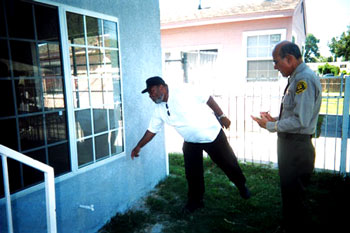 Longtime Compton property owner Lee Earl Hayes with Sheriff LeRoy Baca (r) points to bullet holes that blasted his unoccupied dining room wall and window May 9 when 10 Sheriff Deputies fired 120 bullets at Winston Hayes, an unarmed Black motorist. Final Call cover photo shows close-up of holes in window penetrated by wayward bullets.
COMPTON (FinalCall.com)
- "I thought it was a war going on. It sounded like Iraq was here," is Ruby Evans' description of the 120 shots that 10 Sheriff deputies fired at Black motorist Winston Hayes at around 4 a.m. on a narrow residential street May 9.
Despite the hailstorm—errantly classified as a gunfight by mainstream media—only four bullets hit Mr. Hayes, now recuperating at a nearby medical center.
L.A. County sheriff troubled over 120 shots fired in Compton
COMPTON – Sheriff Lee Baca planned to visit residents of a neighborhood where deputies fired 120 shots at an unarmed driver in an attack captured on an amateur videotape, while city leaders demanded an independent investigation into the shooting.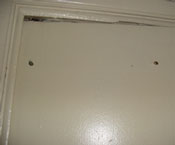 Detail of bullet holes in door of resident's apartment.

Photos: Charlene Muhammad
Baca said Tuesday he owes residents an explanation for Monday's pre-dawn attack by 10 deputies, which wounded the suspect and a deputy.
The videotape shows deputies firing dozens of rounds in the direction of Hayes' vehicle. Some smashed into walls or went through windows of nearby homes, some ricocheted off the SUV, four struck Hayes and one hit a deputy.
The deputy who was struck was wearing a protective vest that stopped the bullet so he suffered only bruising.
A preliminary investigation by the sheriff's department indicated the deputies were confused and opened fire for different, but equally mistaken, reasons.